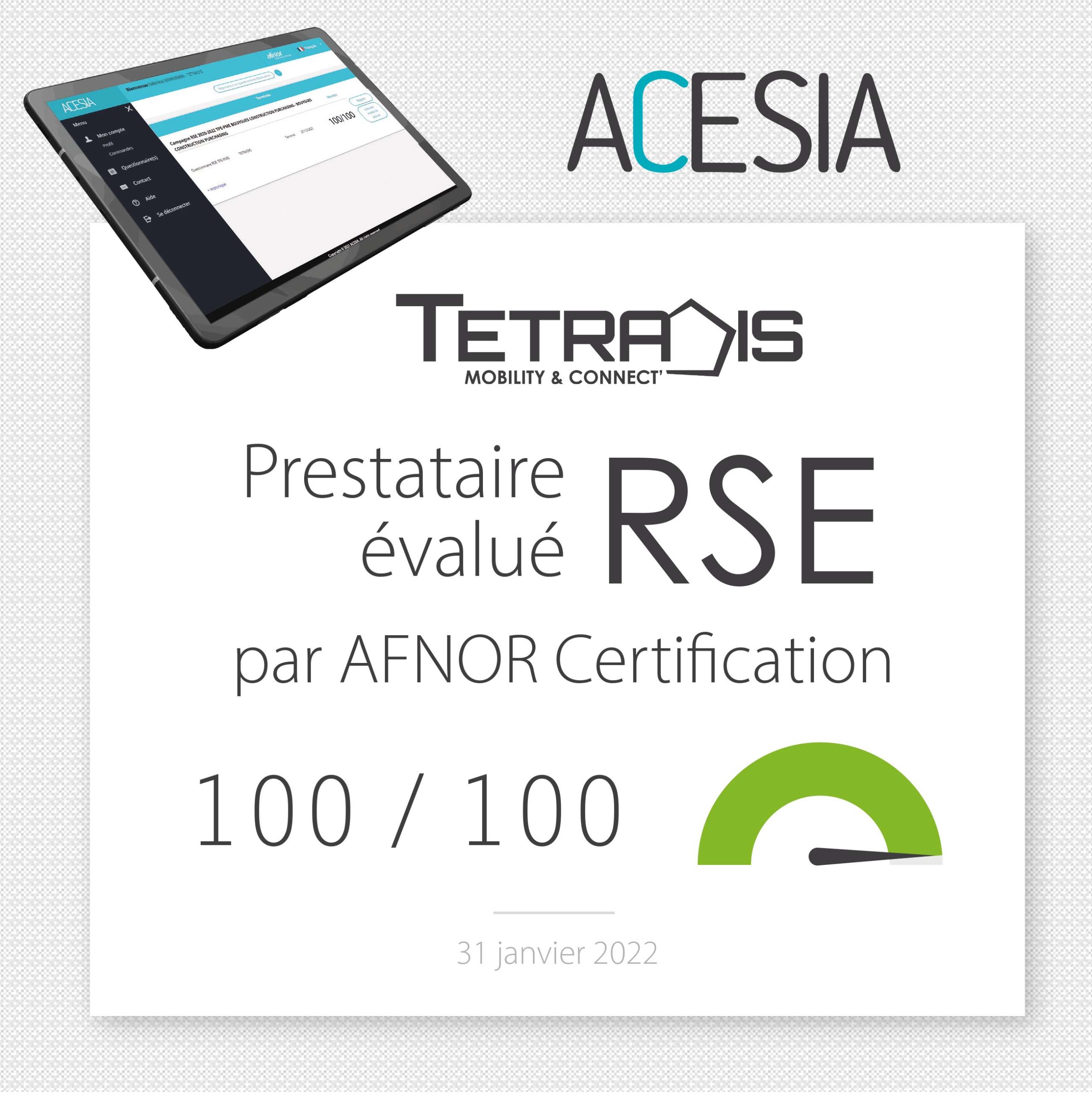 Thanks to the involvement of all our teams, TETRADIS is proud to have obtained the score of 100/100 following the assessment of its level of CSR maturity by AFNOR Certification via the ACESIA platform.
In 2021, the company mobilized resources to carry out an internal audit with the aim of structuring the solid foundations of a CSR policy that will support the sustainable growth of TETRADIS.
In concrete terms, this approach is based on:
3 employees trained in CSR

15 axes analyzed to know the CSR maturity of our ecosystem

1 sustainable development report dealing with environmental, societal, ethical and economic issues

1 project team set up to meet the challenges of tomorrow
ENVIRONMENT
Preserve nature

Limit our impact on climate change

Manage our waste and promote the circular economy

Develop our offers by proposing alternatives
SOCIAL
Valuing women and men

Train and increase career flexibility

Protect the health and safety of all

Respect labor standards
ECONOMIC
Sustain the business

Contribute to a sustainable and ethical economy

Cooperate with stakeholders

Structuring a CSR approach
These actions were rewarded with a score of 100/100 in the ACESIA VSB-SMB assessment administered by AFNOR Certification, compared to an average of the controlled assessments of 48.2/100. A recognition that drives a great dynamic within the teams. This assessment is part of TETRADIS' desire to best support its customers by providing them with the most responsible range of solutions and services.
Find more information on our Commitments page.
If you would like to learn more about our actions, do not hesitate to ask us for our CSR report.