Customized solutions for autonomous energy
TETRADIS designs your own customized autonomous solutions hybrid, smart, cost effective and eco friendly .
A unique know-how
TETRADIS designs and manufactures hybrid and renewable power supplies, operational 24/7 with significant cost savings. This product is based on a unique know-how combining several technologies to offer you customized autonomous solutions:
Hybridization of energy sources
To insure optimal reliability as well as banking on the benefits of renewable energies (solar, wind, Fuel Cells … ).
The CYBOX
Pilots our own Hybrid+ controller, to enable the autonomous and optimal operation of the solution and associated savings.
TETRADIS's solutions are based on a modular, Plug & Start, scalable, easy to use concept.
A customized solution to meet your needs
Autonomous energy
A customized, autonomous power source, perfectly adapted to meet your needs thanks to a modular and scalable concept.
Remote Management System and Smart Metering
A remote management system combined with smart metering gives access to monitoring from your office and in real time the operational status of the unit. Datas are stored on a database available from a web browser. This allows you to interfere on sites only when it is necessary, thereby significantly reducing your logistical costs.
This results in a reliable solution which brings you real operational savings
An "all in one" concept
An innovative power supply, hybrid, compact, secured, packaged in an "all in one" smart design, allowing you to consume just for your needs, bringing your costs down and being more respectful to the environment.
CYBOX
An optimal design, monitored by our own EMS (Energy Management System), for the best energy flow management, and the yield of its components (panels, battery, generator). CYBOX is an embedded system using our own Hybrid+ technology, running our smart algorithm designed by our R&D team.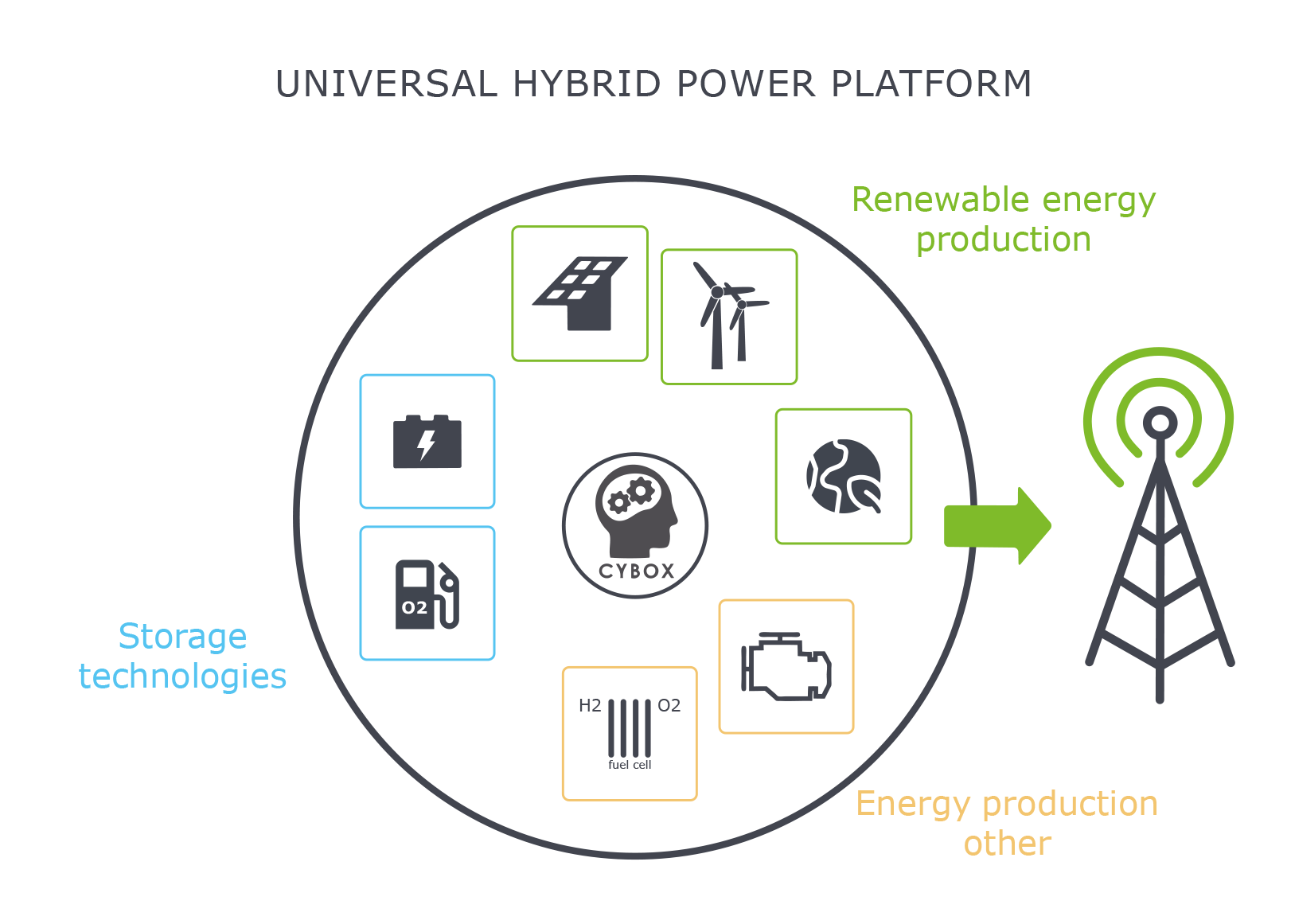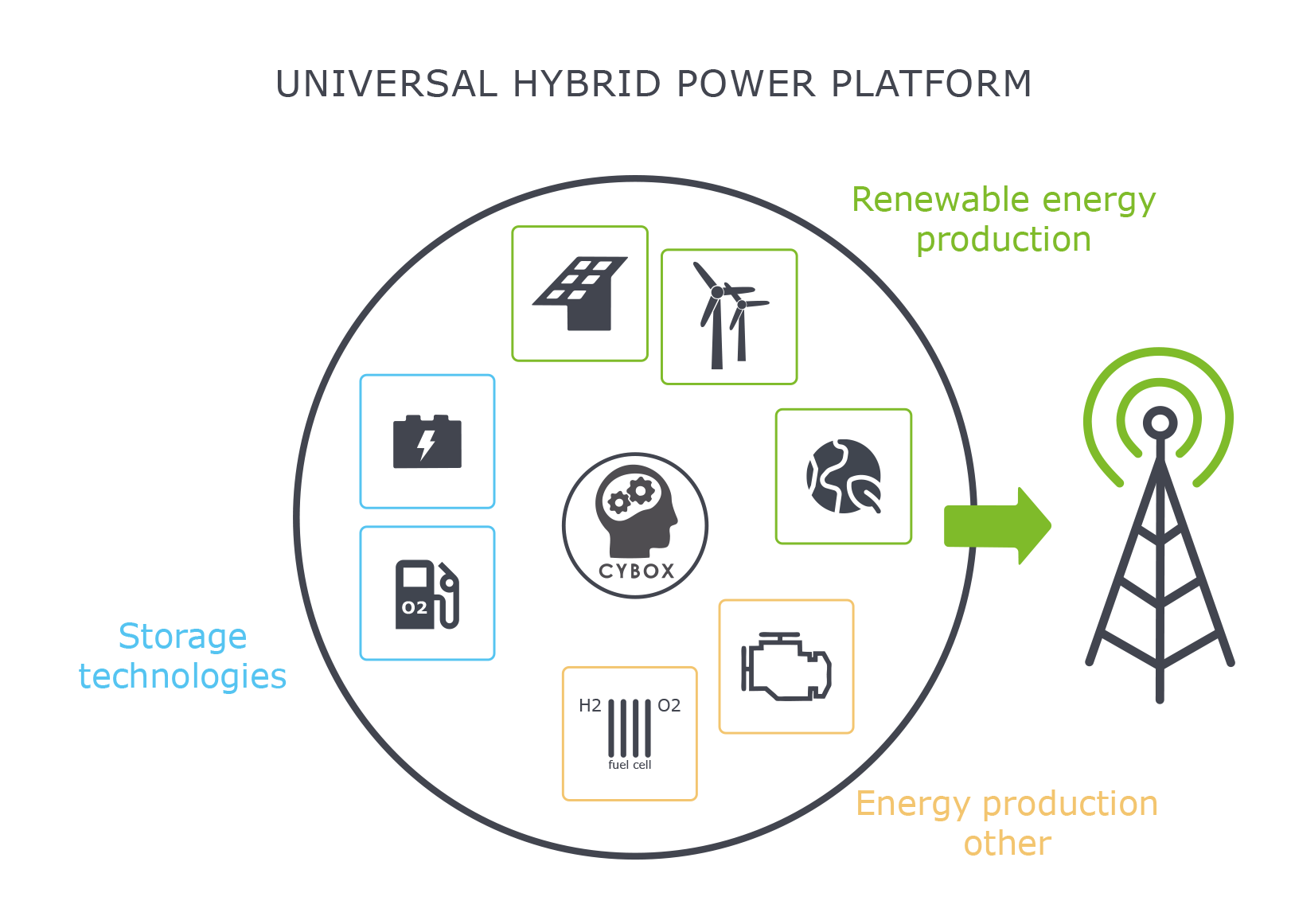 Benefits of our customized solutions
Current "full renewable" solutions are expensive and of uncertain reliability and autonomy.
Our goal is to lower your energy costs, ease your operations in off-grid locations, increase the use of renewable energies (solar, wind, hydrogen … ) and to lower your CO2 emissions, TETRADIS offers effective solutions, customized for your needs. Our mission is to accelerate the transition to off-grid distributed power sources, without fossil energy, through a universal smart platform.
" We were seduced by the professionalism and commitment of the teams to study a solution that suits our situation. "
Alphonse Huber
Chief Technology officer at ORANGE Reunion area
Let us drive your project!

With TETRADIS, you choose innovative solutions of green, intelligent and cost minded energy. With solutions designed for reliable operations and significant cost savings, you choose performance and profitability. With TETRADIS, a reference in the demanding Telecoms world, IoT, isolated sites, you have at your finger tip the energy of tomorrow.
Contact Information
1, rue du mollaret
38070 SAINT-QUENTIN-FALLAVIER
FRANCE

+ 33 (0)4 74 95 39 95
Follow Us